I am a kind of groupie for up-to-date products in nature. I usually bought every new coming product in super market though I found it was awful sometimes.
The product is just a PC case for Macbook. But it looks like an antique, leather book.
is made with a clear zipper case which I bought at 100yen shop with decorating "English News Paper". Of course there is no absorber, so definitely PC will be broken when putting down. Do I have to buy a new PC case???
I tried to retrieve whether I could get it in Japan and found that it seems to be imported but nearest shipment will be a middle of March. I do not want to wait. Then I ordered it by myself directly via the site in US.
Of course I am anxious about....


Do they send cross border?

The site describes in English. Description about products, Shopping cart, click "BUY NOW" put a product into a cart. I proceed to "Payment", entering my credit card number, and displayed shipping information. The system recognized I accessed from Japan so that it appeared "JAPAN" in a "country" text box. I expected this means Japan is their area to send the product.


Does the shop exist in fact?


Still I am afraid this site might be fraudulent site. In Japan, Act on Specified Commercial Transactions regulates e-commerce shop has to describe its address and phone number etc. clearly, how about in US? They have states law, Federal Laws with some difference, not integrated.
Finally I faced to enter credit card information. Entering, click "send" with encryption. A confirmation screen appeared and said "must print". A few minutes later, I received email to confirm ordering.

When will be shipped?

I found a red text message on a screen.
What?
Currently experiencing shipping delays...
Whao!!? not good feeling.
I became nervous again.

Feel relief a little

Delivery announcing email arrived next day. I felt a relief a little.
FEDEX provides tracking system consumer could know where is your products and what is a status. The product was delivered from Charleston and arrived at Memphis to Tokyo.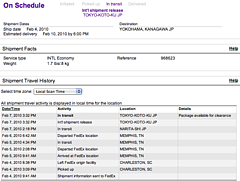 The final gate will be clearing customs.